Tis the season to be Jolly and all that but sometimes you need to give yourself something to look forward to. It is Christmas next week and I should be mega excited but as my last few years have been, my son will be at his fathers house and I will be at home alone. Am I upset? No. Why? Because you have to learn to enjoy your own company, something I have got accustomed to, bizarrely whilst in a relationship. One thing I can say, Being happy when alone is empowering especially when you have a history of Depression, it's personal growth.
On Wednesday I got a phone call from Sam (Cast member of Girly Night In) and she needed to go shopping for her childrens' Christmas presents so we drove to Westfield. Unfortunately we may have got a little sidetracked and our first stop was the village. We ended up drinking Champagne in Jimmy Choo and I bought myself some lovely sunglasses and a new bracelet. For the last few Christmases I have bought myself a present. This is a tradition that I have fulfilled every year for myself and it doesn't just stop at Christmas, birthdays too because why should you wait for other people to make you feel special. You've probably heard the story where the woman saves her underwear for a special occasion and her champagne. The woman becomes sick and unfortunately passes away but all those things she was waiting to wear or drink never came. Moral of the story, do not wait to enjoy life, live it to the fullest, that's the message I received and experience things because Life is short.
For me, Christmas is supposed to be about a time of cheer and spending time with loved ones but I know there are some women out there who will be alone this Christmas. If you are, make sure you use it as a moment of growth and not wallowing. I will be writing, eating and having a little glass of Sherry to myself on Christmas day but just in case you need some ideas. I have listed a few things to stock up on or to entertain yourself on the day.
Get yourself a 'Glow Job'. Two Faced Cosmetics have just released the ultimate peel off facemask, which makes you look pink, sparkly, and its Gluten and Paraben free. I don't know if anyone else watched Trolls but the glitter Troll, Guy Diamond was one of my favourites. So now you can be the Pink version of him, maybe only for 30 minutes but that's better than nothing right? The best bit for all the Queens, it's infused with Gold and should leave your face feeling soft and smooth. I'll let you know how my one goes after Christmas Day.
Rococo Chocolate have a lovely Gold, Frankincense & Myrrh Dark Chocolate Artisan Bar. If you know me enough by now you know I am not the fondest of Chocolate but Christmas is not complete without this bar. I have eaten this chocolate every christmas for the last 5 years, it has a hint of Orange Oil and is infused with the 3 gifts that were given to Jesus as a baby. That means that it also contains 22 carat gold, I'm not sure about a White Christmas but it will most definitely be Golden.
A good Christmas movie always helps to get you in the spirit, however, this year I will be watching something I can sing along like crazy too. That's right I will be watching Trolls (that should've be obvious from my previous comment). I remember when I went to the Cinema to see Trolls I cried and my son looked at me as if I was a weirdo. But if you ever need something uplifting that tells you to stay positive and give hugs to strangers, then this film will have you spraying Glitter and giving hugs.
Everyone loves a good fruitcake at Christmas (I do at least) and this year, I was lucky enough to get a quick icing lesson from Rachel's Patisseries. I say lesson but I feel like I mostly watched and let Rachel do all the work whilst I made a bow for my fruitcake. I've attached a photo because I thought you would want to see my craftsmanship and my new nails of course (courtesy of Shea from Shead Beauty). I will definitely be looking forward to pigging out on this over Christmas, I mean you know Rum runs through my veins not blood. If you know about Mount gay Rum you'll understand why I say this.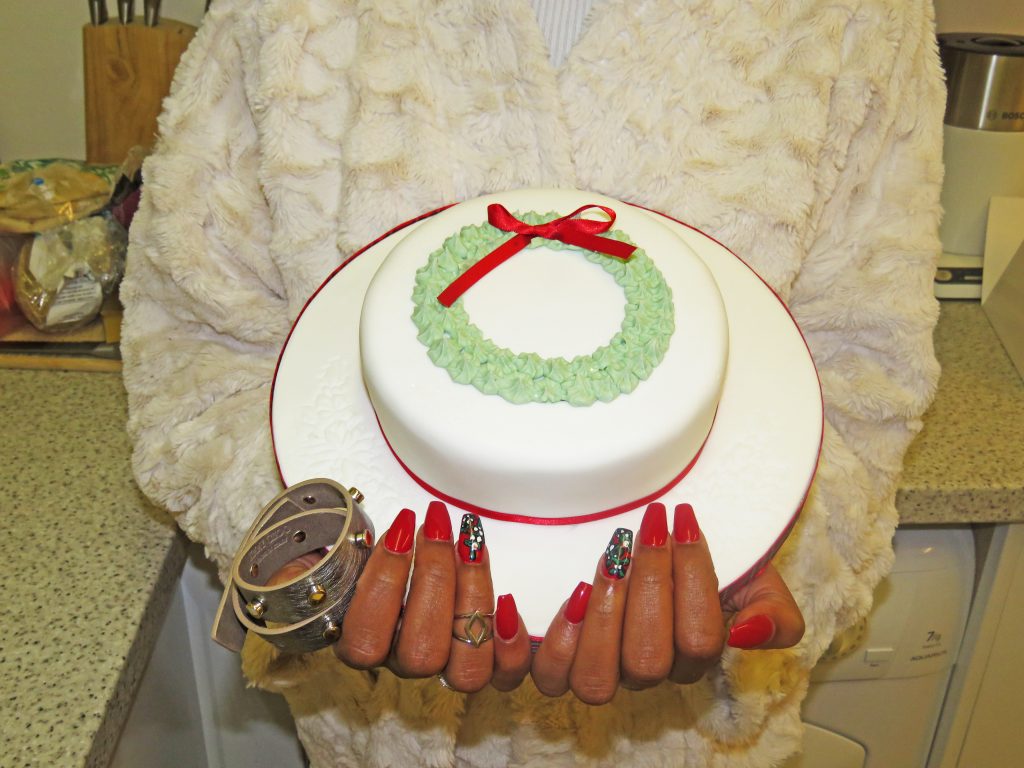 So as we approach Christmas next weekend I hope I have given you some suggestions on how to enjoy your festive period. If you are lucky enough to be spending it with friends or family then remember you can still do all of the above just include them in the mix and if not I will always be up for a chat just message me on Twitter @LatoyaLovl. xoxo