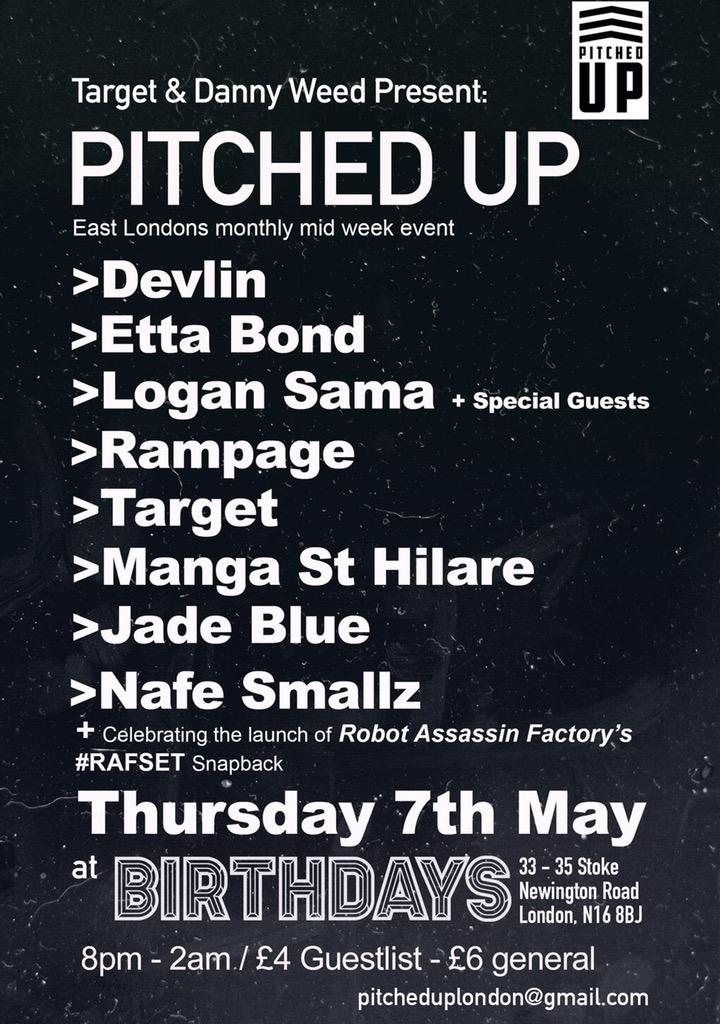 When Shireen from Ten Letter PR invited me to DJ Target and Danny Weed's night at Birthdays, Dalston last week I had no idea what to expect. I have not always been a fan of UK music but nights like this remind me why I should be proud that I have grown up here. As I have said before I was born in New York but I have lived here since I was 2 and the British culture is most definitely something I am proud of. The artists last week emphasised this with performances from Manga St. Hilare, Nafe Smallz, Etta Bond and Devlin to name a few.
The night was presented by DJ Target and Danny Weed so it was only right that they kicked off the night with DJ Target on the decks and Manga St. Hilare giving us the first performance for the night. The energy from the crowd was amazing. I have been to Birthdays before for other artists but none of them have been as full or had the crowd dancing like this one. The turnout of support was amazing with a sea of Robot Factory Assassin Hats (their hat range) everywhere. I must say there is an all-white one currently out but unfortunately I missed the all red one; you know that's my colour. After Manga St. Hilare he introduced Astroid Boys a duo from Manchester who he just supported on tour. They kept the crowd bubbling but it was the next performance that really caught my attention. Nafe Smallz a young rapper from Luton, who dedicated one of his songs to a friend that had passed and had the crowd jumping up and down like a mini mosh pit. I won't lie I joined in and when I got home he was one of the artists that I had to find out more information on. One of the songs that he sang on the night was 'Live what your dreaming' and it is definitely worth listening to.
Next up was The next act that really caught my attention was Etta Bond, someone who DJ Target has said he has supported from the beginning and with her hypnotising tones I am not surprised. She has an attitude of not caring and her sound is so hypnotic that I literally felt mesmerised. She performed a few songs but my favourite from her was her remix of her own song '18' with a guest rap verse from Avelino. This is one remix I am definitely waiting to drop but for now I have just had the original playing and added to my own personal playlist. Last for the night was Devlin and it was his birthday so he apologised in advance for any wrong lyrics as he'd had some birthday drinks. His performances unfortunately were not as long as the others but as finales go he had the crowd just as energetic considering it was pushing 1am by this point. Happy belated birthday Devlin.
All in all I had a very good night and after an interview on Clubs and Spades in the morning and the Trish McEvoy Beauty event. It was a very nice ending to the day and I must say I am glad that I went as I said I found some new artists to add to my own personal playlist and I am trying to get the tracks so I can playlist them for the radio show. Have a listen to the tracks and let me know what you think guys? Do you agree with me I think we always underestimate what is in our own back yard but I am glad that we have people like DJ Target and Danny Weed making sure these UK artists do not get missed and get all the exposure and support they need.