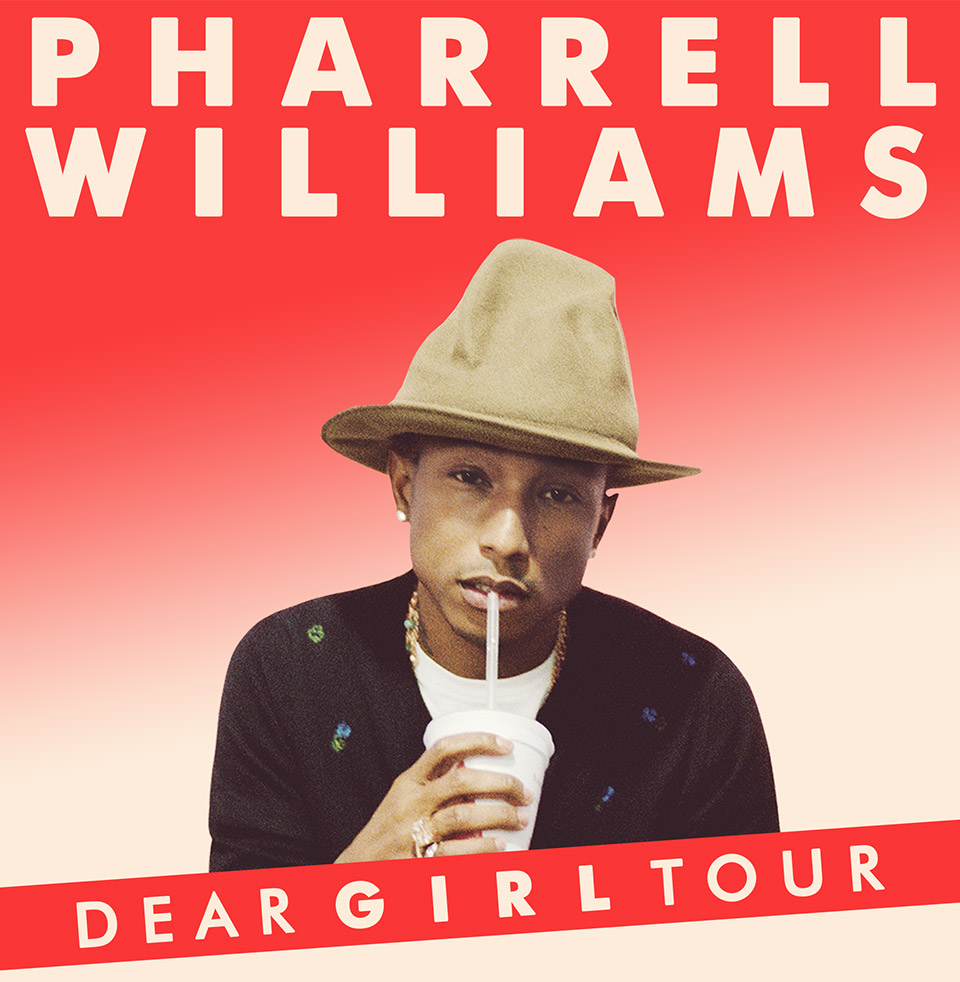 I can remember exactly where I was when I heard 'Happy' for the first time. That might have something to do with Antoine dancing wildly next to me distracting me whilst I was trying to drive. But it was like an epidemic that swept the world and I was hooked too, in my household that's our morning song when we are getting dressed. So when my friend phoned me to say she had a spare ticket to Pharrell's concert at the o2, Happy was not the word. I arrived at the o2 fashionably late which backfired because I only caught the end of The Foxes set who were actually rocking the stage. I did manage to catch them singing Rudimental's 'Right Here' which was amazing. Her rifts and tone had the whole audience watching her like a hawk not to mention the L'Oreal style hair blowing in the wind. I for one was very impressed and think they were just right to open up for Pharrell.
Then it was time for the man himself, first came his guitarist whose guitar I was in love with all I can say is, think Pink. The backing dancers were in a praying pose I thought but then the background lit up and I realised they were dancing in Egyptian movements, dressed in Adidas. The backup dancers also rocked some lovely Adidas skater skirts, bomber jackets and crop tops. Pharrell appeared wearing some Adidas Jeans, a white jacket, blue hat, Stevie Nicks t-shirt and some red high tops. He looked the epitome of style, which you'd expect considering his hat has its own twitter. He opened with Hey Girl and the crowd were gone away with the fairies and singing along, myself included. We were entertained thoroughly and he brought out the old and when I say old I mean N.E.R.D. Yes they came and supported him on stage and sang 'Rock Star' and the infamous 'Lap Dance'. For a few lucky males in the crowd, they were invited on stage and got to be backup dancers for the track. He high fived every last one of them and thanked them when the track was finished. The ladies? He sang 'Love to Move' and that's when they got there invite onto stage. Pharell hugged all the ladies too and by this point I was upset I wasn't in the crowd at the front but all was forgiven because he dedicated Snoop Dogg's 'Beautiful' to everyone in the audience (a shortened version). He also sung some snippets from other songs starting with Snoop Dogg's 'Drop it like it's Hot' Nelly's 'Hot in herre' and Jay-Z's 'I Just Wanna Love U' not to mention making us jump to Busta Rhymes 'Pass the Courvoisier'.
A few songs on and it was time for the @Dearbaes to remind everyone what being a dancer is all about. I have never seen dancing like it each dancer did a solo routine and then it finished with a group performance. One thing is for sure I would never face one of those girls in a twerk off. 'Blurred Lines' and 'Get Lucky' were the supposed finale songs before Pharell thanked us and left. The crowd sat in silence and you could feel the electricity in the air whilst we all waited patiently. Eventually after what seemed like hours when it was probably only a few minutes he came back out and sang 'Lose Yourself to Dance' which he followed up by saying there was too much negativity in the world on our TV's on the radio and that we needed to change that. He wanted us to finish with a bang and lift the roof. My god we did the noise was deafening, there was a confetti explosion and a silver glitzy jacket that had me mesmerised for the rest of the song which I never wanted to end.
As I left the o2 (voice gone from all the screaming) it was refreshing to see Pharrell still on stage waving goodbye to everyone. I smiled to myself, he involved the crowd he never had an interlude and he was fashionable as always. One thing is for sure next time he comes over I am booking standing tickets so I can run on that stage. However I am happy with the blue and yellow starred confetti on my wall now as a memory of the night. I look at them and they just make me happy.